Groveland Bounce House Rentals
Water Slides, Obstacle Courses & More!
Groveland Bounce House Rentals for Your Next Event! If you're planning a children's birthday party, a family reunion, or even a company family day, you'll need something special to make it memorable. With all of the effort that goes into party planning, it's easy to forget that the simplest things often provide the best returns.
Bounce House Bros Rentals will provide affordable and safe entertainment for your upcoming event. If it's been a while since you've rented or even seen a bounce house up close, you'll be impressed by the modern designs that we have to offer. We offer standard bounce houses for kids parties on a budget, as well as premium designs with built-in obstacles, games, and even water slides.
If you want to make an event both fun and unforgettable, Windermere bounce house rentals are the perfect starting point. Bounce houses are often used for children's parties, but they're not just for the kids. With the right design, you could incorporate slides and an obstacle course for kids and healthy adults. Bring some unique interaction to your party and it will be one that people won't forget.
Bounce House Rentals in Groveland, FL
If you're hosting a birthday party or another event that needs some children's entertainment, the Candy Shake Dry Combo could be the perfect addition to your setup. Designed for children between the ages of 1 and 9, the Candy Shake Combo provides space for up to 8 kids at a time. It's ideal for all events, but you'll need to step up to something a little larger if you have more kids in a larger group.
Like all of our Groveland bounce house rentals, the Candy Shake Combo is designed to stand up to all-day use, thanks to advanced fabrication and quality vinyl materials. If you have a larger group of kids or just want something with a little more presence, we offer premium obstacle course rentals or we do offer discounted rate for multiple inflatables rentals! If you're ready to book a bounce house or bounce house combo for your next event, you can order online now!
Order-by-Date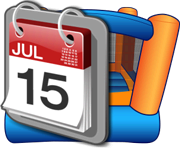 Water Slides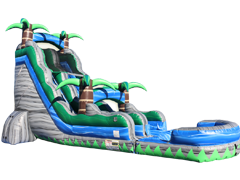 Bounce Houses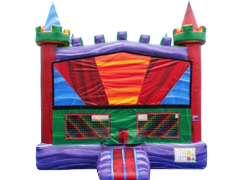 Obstacle Course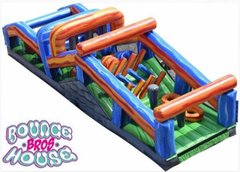 Tables and Chairs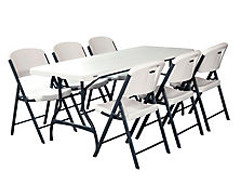 Concessions and Add-Ons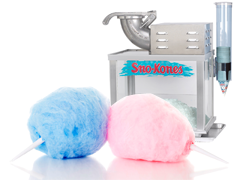 Water Slide Rentals in Groveland, FL
Combo bouncers include plenty of interior space for jumping, slides, basketball hoops, and even pop-up obstacles. Some of our models even include a wet and dry design so you can have a traditional bounce house with an attached water slide.

Whether you choose a combo or a dedicated 18 ft. water slide, you can create perfect all-day fun and entertainment for those hot summer mornings and afternoons. A water slide is the perfect way to cool down while having plenty of fun doing it. Or if you want to be the dare devil type try our tallest water slide 22 ft Purple Waves! You'll quite literally make a splash at your next event with our affordable Groveland water slide rentals.
Obstacle Course Rentals in Groveland, FL
Versatility is key to getting the most out of your investment in Groveland obstacle course rentals. Our dedicated obstacle course design is perfect for kids and adults, offering a fun and competitive course that will keep kids engaged and adults entertained. Not just for parties, our obstacle course rentals are also ideal for team building events, fundraising, fairs, community events, and any other special event where you want to incorporate some fun and competition. For large events or when looking to do a backyard party BIG we suggest of 2-piece Obstacle Course! All of our inflatables are installed and packed down by professionals. Book online for the most convenient way to prepare for your event.
Bounce House Bros Party Rentals is committed to delivering the best inflatables with a service that can't be beaten. We offer competitive rates and a complete set up and pack down service. Our staff are highly trained and will brief you on safety and operation. Our teams are fully vetted with background checks and receive regular up skilling to ensure that you get the best service, whether you're hiring a simple Windermere bounce house or our advanced obstacle course.
Be prepared for a party that will keep everyone smiling throughout the day. Book now for bounce houses, obstacle courses, interactive inflatables, and Windermere water slide rentals. We also service Clermont, Winter Garden, Windermere, Minneola, Leesburg and surrounding areas!